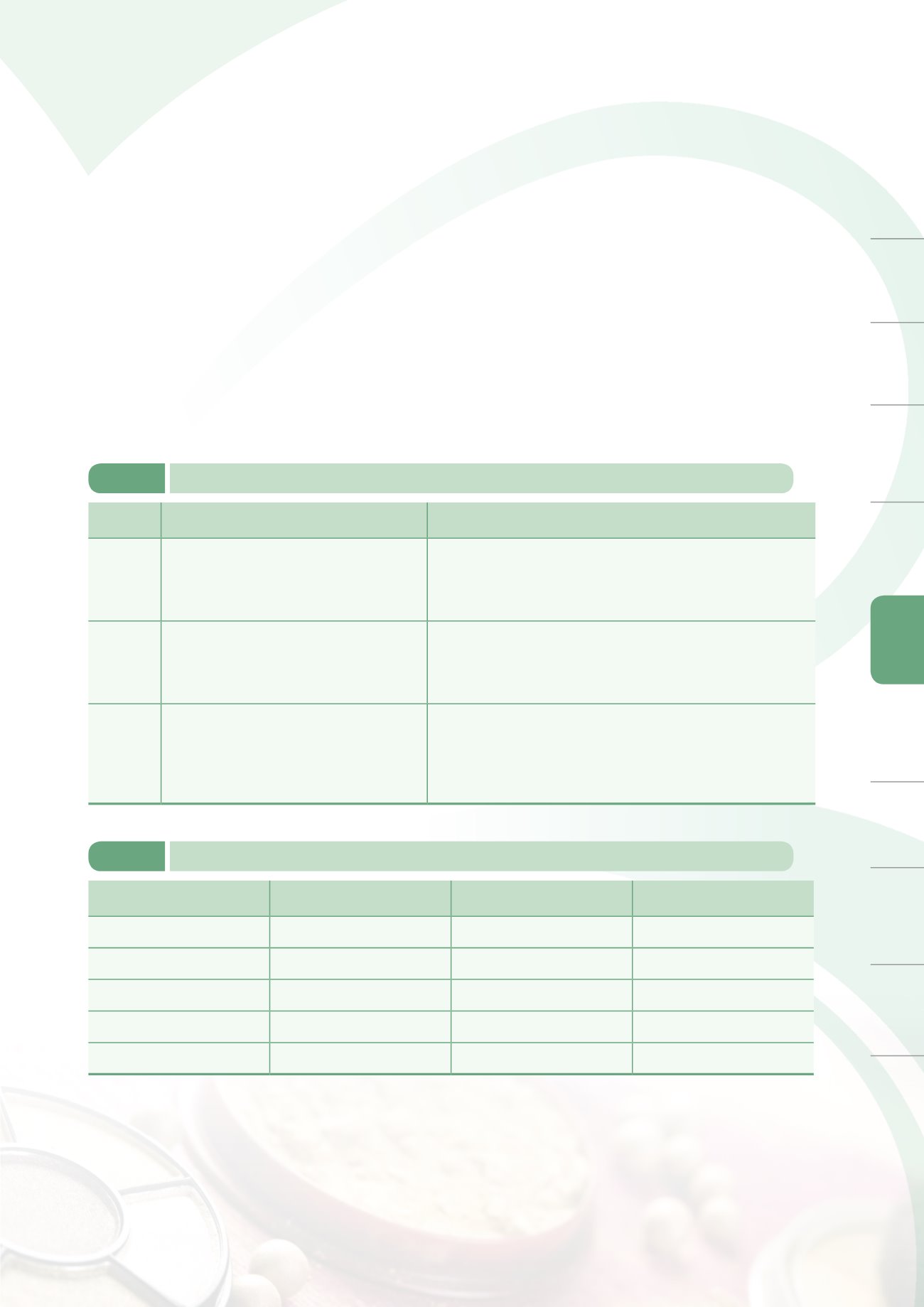 2015 Annual Report
57
Risk Assessment
Management and
Research Outcomes
Cosmetics
Management
Appendix
National
Laboratory and
Testing Network
Risk Communication
and Consumer
Protection
International
Cooperation and
Cross-Strait Exchange
Food
Management
Medicinal
Products
Management
Policy and
Organization
Controlled
Drugs
Management
Medical
Devices
Management
(2) Adding Various Regulations and Hygiene Standards
Regulations from various countries are referenced to achieve harmonization of rules. Cosmetic
regulations and hygiene standards added or revised in 2014 are listed in Table 6-1.
2. Pre-Market Approval & Registration and Cosmetic Advertisement Examination
(1) Inspection and registration of medicated cosmetics
a. In 2014, TFDA handled a total of 1,900 cases of cosmetics inspection and registration
applications, of which 1,661 cases were approved (Table 6-2).
Date
Regulation / standard name
Summary
8 January
Amendments to
Regulations Governing
Maximum Residual Amounts of Heavy
Metals (Lead and Arsenic) as Impurities in
Cosmetics"
Residual lead or arsenic impurities in the final product should
not exceed 10 ppm and 3 ppm respectively
15 May
Amended
Guideline for the Use of
Preservative Ingredient and Dosage Limit
Requirement in Cosmetics
Amended the usage limits and published additional reminders
for the use of
Methylisothiazolinone
and
Mixture of 5-Chloro-
2-methyl- isothiazol-3(2H)-one and 2-Methyl- isothiazol-3(2H)-
one with magnesium chloride and magnesium nitrate
9 October
Amended the Management
Regulations
Governing the Composition of Camphor,
Menthol, and Methyl Salicylate in
Cosmetics
Removed the management regulation stipulating
cosmetics
containing Camphor as an ingredient should label in its
package insert or packaging that the product should not be
used by those with glucose-6-phosphate dehydrogenase
deficiency
Year
Total applications
Licenses granted
Approval rate
2010
1,594
1,437
90.2%
2011
1,634
1,519
93.0%
2012
1,721
1,482
86.1%
2013
1,650
1,506
91.3%
2014
1,900
1,661
87.4%
Table 6-1
Regulations and hygiene standards associated with cosmetics added or revised in 2014
Table 6-2
The number of approved cosmetics licenses issued from 2010 to 2014