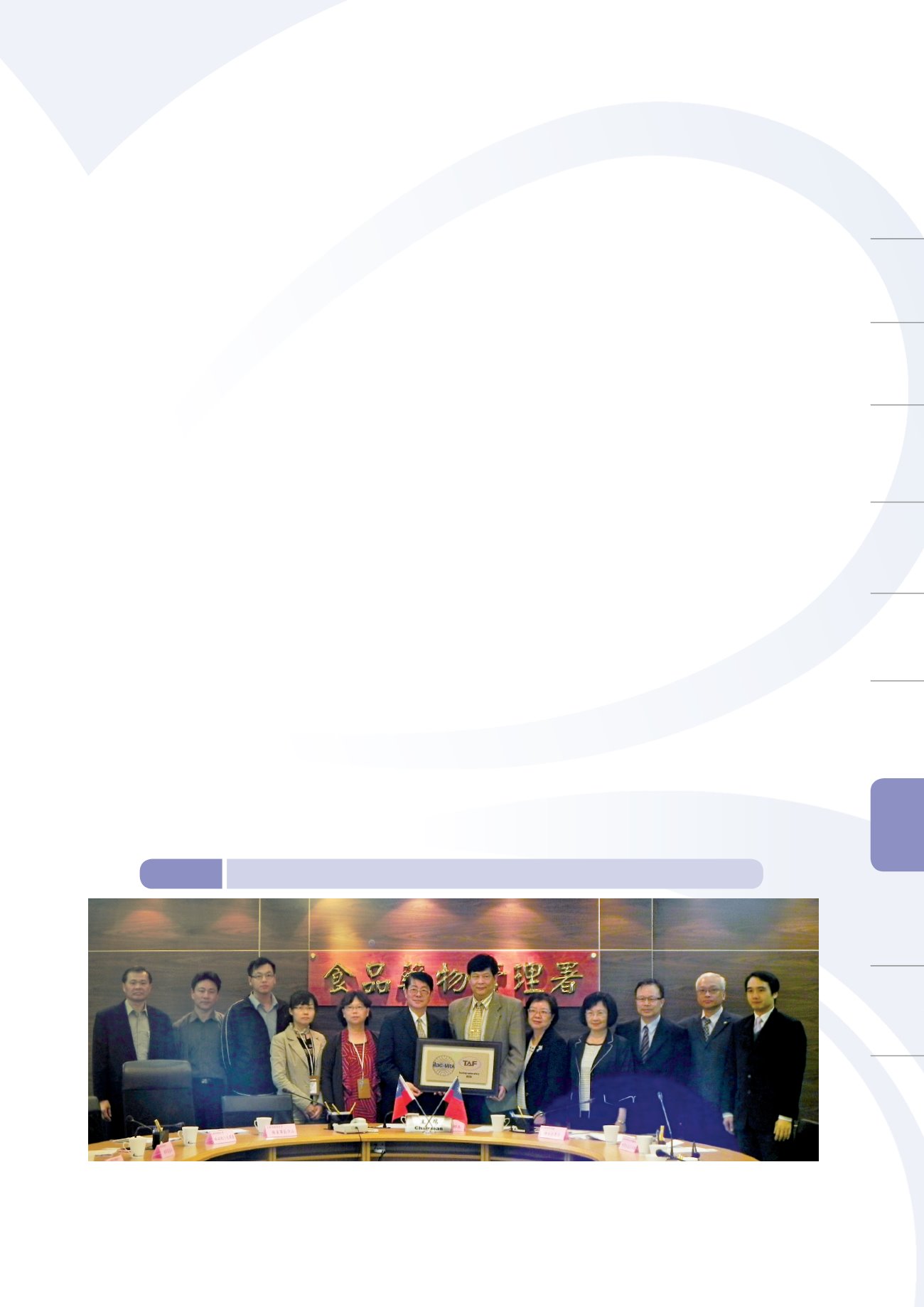 2015 Annual Report
81
Risk Assessment
Management and
Research Outcomes
Cosmetics
Management
Appendix
National
Laboratory and
Testing Network
Risk Communication
and Consumer
Protection
International
Cooperation and
Cross-Strait Exchange
Food
Management
Medicinal
Products
Management
Policy and
Organization
Controlled
Drugs
Management
Medical
Devices
Management
Section 2 Strengthening the Testing Capability of National and Local
Laboratories
Current Status
To develop rapid and accurate testing methods to clearify the contingencies, propose response
strategies, to eliminate public concerns through the press and media. Continue to enhance
instrument and equipment testing techniques and standards. Strengthen laboratory quality assurance
and actively seek accreditation and international recognition. Additionally, the testing capacities of
the local health bureaus have been improved. In 2010, every health agency throughout the country
has been included in the
Regional Joint Specialized Testing System of Health Bureaus
to implement
specialization. TFDA also continued to subsidy precision instruments in order to strengthen testing
resources, techniques and capacities of the health bureaus.
Policies and Outcomes
1. Advancement of the Testing Capability of the National Laboratory
(1) Forensic Science Testing Certified to ISO/IEC 17025 and Aligned with Global Standards
a. The controlled drugs laboratory of the TFDA has been accredited the ISO/IEC 17025 forensic
science testing certification, demonstrating that testing standards and techniques are compliant
to international specifications and standards, which assists to improve the credibility of testing
results from the laboratory.
b. To attain higher quality, the certification award ceremony was held at TFDA (Figure 8-1). The
Director of the Board of the Taiwan Accreditation Foundation (TAF) attended the ceremony
to award the certificate personally. Other distinguished guests were invited to attend it, which
included representatives from the Chemical Forensics Division of the Ministry of Justice
Investigation Bureau (MJIB), the National Police Agency of the Ministry of Justice, and the Criminal
Examinations Center of the Military Police Command and so on.
Figure 8-1
Award ceremony of the ISO/IEC 17025 forensic science testing certification