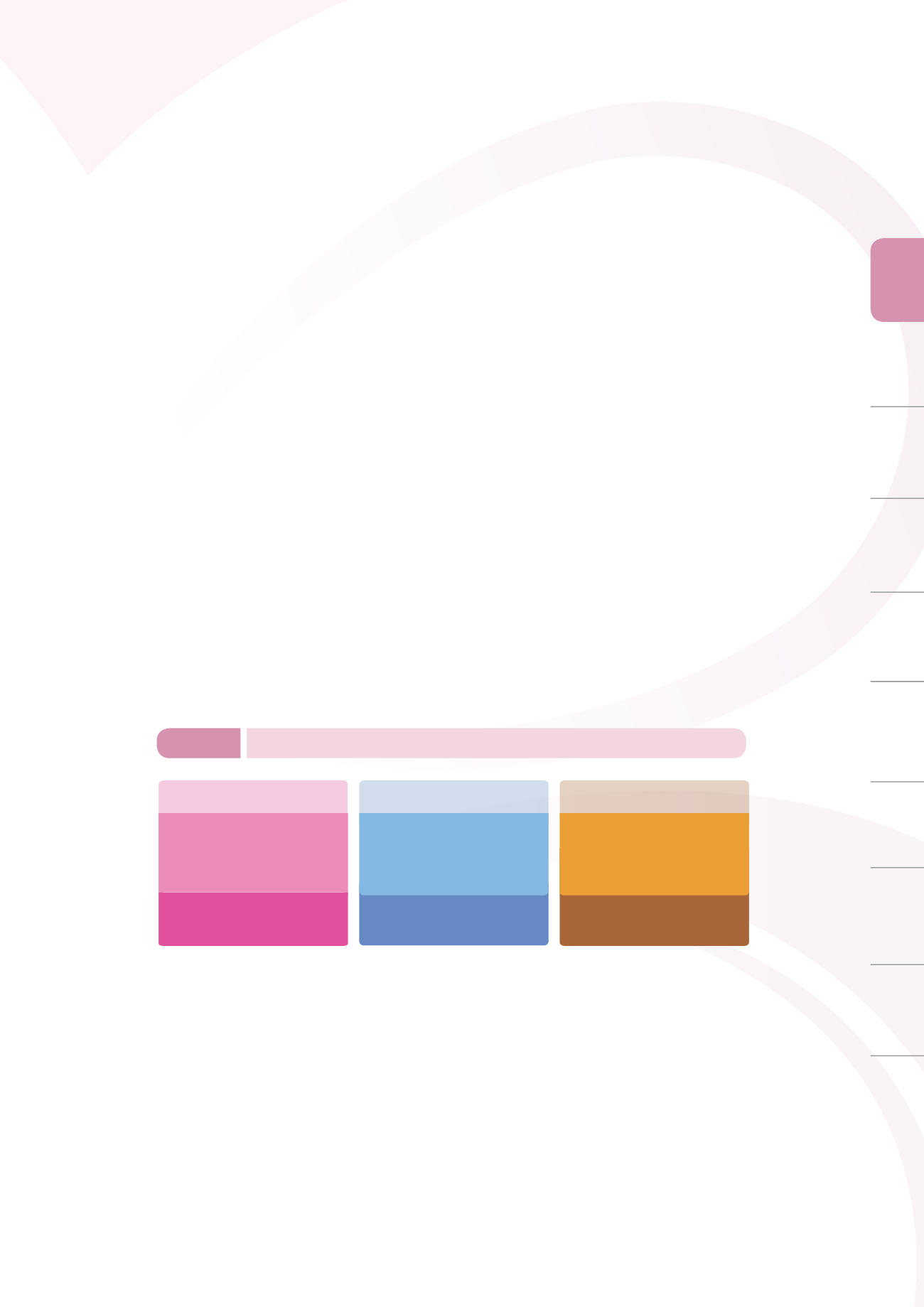 2015 Annual Report
15
Medicinal
Products
Management
Controlled
Drugs
Management
Medical
Devices
Management
Risk Assessment
Management and
Research Outcomes
Cosmetics
Management
Appendix
National
Laboratory and
Testing Network
Risk Communication
and Consumer
Protection
International
Cooperation and
Cross-Strait Exchange
Policy and
Organization
Food
Management
Section 2 Food Product Source Management
Current Status
Food processing sanitation and safety control is a complex chain from raw material sourcing,
production, post-harvest treatment, processing, manufacture, distribution, transport, sales, to
consumer consumption. Food safety management should focus upon preventing the incidence
of hazards and enact control measures that cover both the source of production as well as the
consumer market. Source management legislation and systems shall thoroughly implement the spirit
of self-management, strengthen the management of imported foods as well as food additives to
prevent food hazards.
Policies and Outcomes
1. Strengthen Food Additives Management
(1) Establishing food additive classification harmonized with international standards: TFDA continues
collecting international specifications from the United Nations Codex Alimentarius Commission (CAC)
as well as the United States, European Union, and Japan to adjust and harmonize classifications
of Taiwan's food additives with those used in international standards. In 2014, a total of 800 food
additives have been in the positive list. Each additive has been provided with a scope of use and limit
standards that should be complied with.
(2)
Three-Division
management strategy of food additive sources: Management of food additive
sources shall be administered through intermenstrual cooperation between the Ministries of Health
and Welfare, Ministry of Finance, and Ministry of Economic Affairs, using a
three-division strategy
as shown in Figure 2-1 to divide
importing by flow, manufacturing by district, and sales by industry
to prevent illegal chemical substances from coming into any food production chain.
Divide imported items by flow
On the Imported Food
Additive Declaration
Form 'food grade'
and 'batch' must
be filled out
Divide manufacturing by area
Divide sales by industry type
The Establishment
Standards of Construction
and Equipment of a Food
Factory
Encourage business owners
to include the registration of the
following business categories:
Food additives distributor and
Food additives retailer
ˇ
ˇ
Act Governing Food Safety
and Sanitation
Paragraph
3 and 4 of
Article 10
ˇ
Implement mandatory
registration of these
ˇ
ˇ
Divide goods by
category number
and flow
ˇ
Figure 2-1
Three-Division Management Strategy for food additives
(3) Food additive registration system: Set up a fadenbook (mandatory registration) data system
for food additives (website:
http://fadenbook.fda.gov.tw/
). A total of eight seminars on the food
additives registration system and system operation instructions for business owners were held
in 2014. By the end of 2014, a total of 2,203 food additive manufacturers, importers, and local
vendors have completed registration processes for a total of 102,053 items.
2. Promote the
Food Safety Control System
(1) To ensure food sanitation and safety, implement the Food Safety Control System for high-risk
food businesses to prevent the incidence of food hazards, and provided support for local health
authorities in implementing compliance audits (Table 2-3).