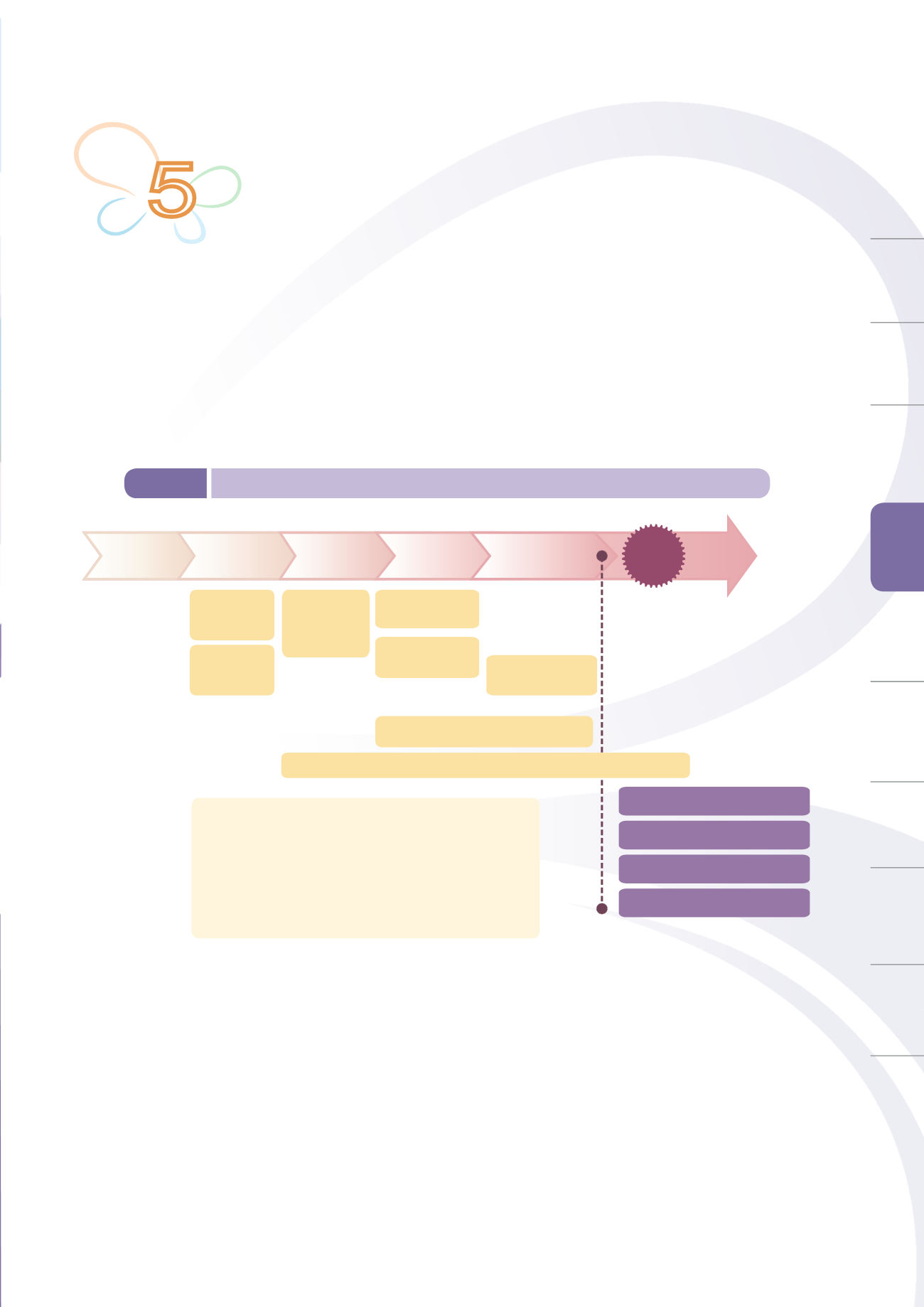 2015 Annual Report
45
Risk Assessment
Management and
Research Outcomes
Cosmetics
Management
Appendix
National
Laboratory and
Testing Network
Risk Communication
and Consumer
Protection
International
Cooperation and
Cross-Strait Exchange
Food
Management
Medicinal
Products
Management
Policy and
Organization
Controlled
Drugs
Management
Medical
Devices
Management
5
Medical device industry is an emerging industry that carries lots of potential to be developed in a broad
array of dynamic and versatile medical fields. Facing with the vividness and quality management of
domestic medical device industry and the core emphasis on consumer protection, a total product life cycle
regulatory system (Figure. 5-1) covering international regulatory harmonization, production source control,
pre-market gatekeeping, post-market monitoring, supply chain management, and professional counseling
service was established to effectively ensure the safety, effectiveness, and quality of medical devices, as
well as to promote development of Taiwan's biotech and pharmaceutical industry, creating an environment
beneficial for consumers, the industries, and the government.
Section 1 Medical Device Regulations and Product Review
Current Status
The medical device industry is the one that requires highly strict regulatory requirements and
management. A transparent, effective, and appropriate regulatory environment must be established
in order to safeguard the safety of device usage for public and promote industrial development. To
strengthen management over medical device safety, effectiveness, and quality before market release,
management items for inspection and registration such as preclinical testing, clinical trials, and
product inspection standards are reviewed accordingly. Medical device industries are also provided
with regulatory inquiry and project consultation services for innovative research and development
applications, providing a strong foundation for their business development.
Production quality
system control
Medical Device Advisory Committee
Manufacturer's Quality System Audit (GMP)
Consumer Health
Education Promotion
Safey Surveillance &
Alert Collection (GVP)
ADR & Product Defect Reporting
GLP
GTP
GCP
IRB
GMP
ADR
GVP
GDP
:
Good Laboratory Practice
:
Good Tissue Practice
:
Good Clinical Practice
:
Institutional Review Board
:
Good Manufacturing Practice
:
Adverse Drug/Device Reaction
:
Good Vigilance Practice
:
Good Distribution Practice
GDP
Post-market Surveillance
Postmarket Control
Medical Care
Needs/
Fundamental
Study
Product
Design/Prototype
Development
Preclinical
Validation
Clinical Trial
Premarket
Application
Postmarket
Surveillance
Production
General / Special
Case Consultation Good Laboratory
Practice
(GLP/GTP)
Product
Designation
Clinical Trial
Inspection (GCP)
Registration
(Approval/Listing)
Clinical Trial
Protocol Review
(TFDA/IRB)
Premarket
Control
Medical Devices Management
Figure 5-1
Medical device total product life cycle management system
l
e