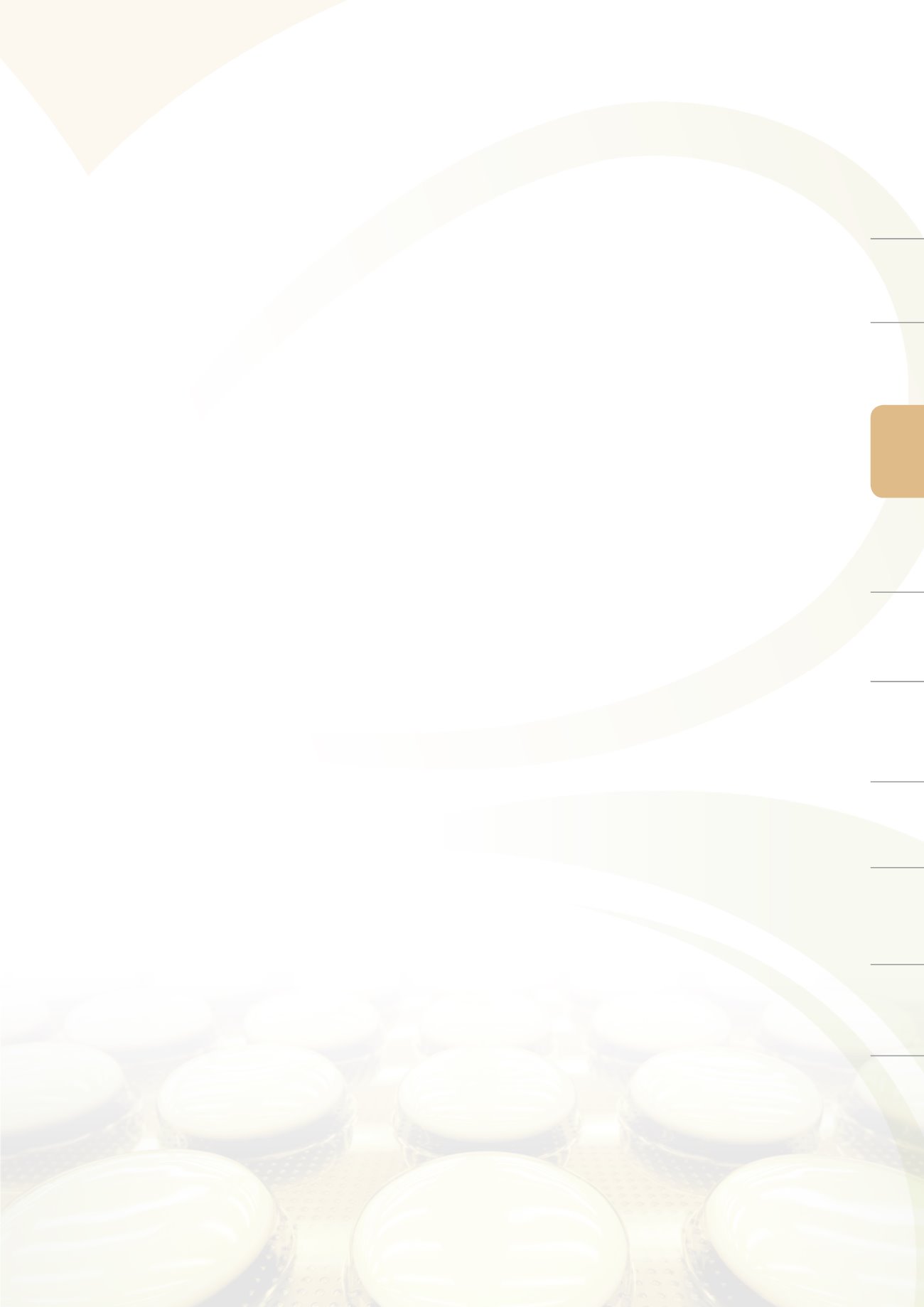 2015 Annual Report
39
Controlled
Drugs
Management
Medical
Devices
Management
Risk Assessment
Management and
Research Outcomes
Cosmetics
Management
Appendix
National
Laboratory and
Testing Network
Risk Communication
and Consumer
Protection
International
Cooperation and
Cross-Strait Exchange
Food
Management
Medicinal
Products
Management
Policy and
Organization
2. The Management for the Medical Purpose of Controlled Drugs
(1) The Ministry of Health and Welfare has set up a
Medical Purpose of Controlled Drugs Review
Committee
. In 2014, the committee had reviewed 130 cases with the long term controlled drugs
prescription due to non-cancer intractable pain to ensure all the narcotic prescriptions were not
abused.
(2) When the health bureaus found any cases involved with improper controlled drug prescriptions
will be sent to the committee for review. The resolved solutions varied, from correction, consulting
to penalizing, per the severity of the each individual case. In 2014, there are 20 violation cases
regarding to the improper prescription.
3. Management of Controlled Drug Licenses
(1) As of the end of 2014, there were a total of 14,857 businesses with controlled drugs registration
licenses and 49,059 individuals with prescription licenses for the use of controlled drugs. Appendix
1 Annex Table 10 provides detailed statistics on the licenses of controlled drugs.
(2) All the controlled drugs used for manufacturer, import and export vendors, health related
researches and experimental purpose need license through certificate, agreement and approval
documents. In 2014, a total of 1833 such licenses were issued.
4. Management of Controlled Drugs Audits
(1) TFDA has closely supervised all the health bureaus to reinforce the audit of controlled drugs. In
2014, there were 17,057 cases had onsite inspections, a total of 304 had violation. The violation
rate of 1.78%. The most common violation cited during an inspection were
the improper or
inaccurate records in the controlled drugs log
followed by
failure to declare controlled drug
transactions on a regular basis
. All violations were penalized accordingly. Appendix 1 Annex Table
11 provides detailed statistics on controlled drugs audit results.
(2) In 2014, a special program-
Program for Strengthening Prescription Audits for the controlled drug
Zolpidem
was conducted to improve the proper prescribing of Zolpidem. TFDA conducted a data
analysis and the high out-of-pocket costs related to the prescribing of Zolpidem were examined. A
total of 302 facilities were inspected, 45 violating facilities were noted. The violation rate of 14.9%.
All violations, which included 18 cases of medical malpractice, have been handled according to
the relevant regulations.
5. Training for Controlled Drugs
Seminars on updates to laws and regulations and licensing procedures were given to local health
agencies as well as central veterinarian authorities. In 2014, a total of three basic courses and one
advanced course was held, attended by a total of 344 trainees.